The Twisted RIB designed our way. Our RIB takes an iconic British designed deep-V hull with a pedigree of more than three decades and makes it better.
From bow to stern our engineers have refined the performance, handling and onboard equipment to create an uncompromising experience. Not every improvement can be seen. But that doesn't matter – because although you might not see it, you'll begin to feel it the second you sit behind the helm of the Twisted RIB.
Explore
Models
Crafted in the heart of the Devonshire coastline, Salcombe; the Twisted Marine engineers take our 30 year pedigree in the automotive world and turn our hand to crafting exceptional vessels for leisure boating. Our RIB range takes the best and makes it better by utilising an established, pedigree RIB design that has been class leading for several decades. We have then looked at every facet of the design to refine and hone each element and feature, creating a stunning, hand crafted range of RIBs that has surpassing quality and performance within its class.
Each vessel has undergone hundreds of hours of rigging and dialing in by our artisan marine engineers and designers. With our teams heritage based in the automotive, Formula 1, super yacht and offshore powerboat racing industries, Twisted create class leading performance, luxury and sea-keeping within its RIB range. Each RIB features Mercury Marine engines, SIMRAD navigation and a performance offshore Deep-V hull design.
Performance
At Twisted Marine we live and breath performance on the water. Our Salcombe commissioning space enables high performance testing of all of the Twisted RIBs. Each craft is individually dialled in for the optimum performance and safe handling. We have taken the RIBs out in the toughest of conditions around the Southcoast from the Solent to Startpoint. All of which were conquered with exceptional fun in the meantime.
Detail
The difference is in the detail. Our passion is performance on the water with functional design. Our attention to detail is bordering on an obsession and we don't care. Each craft is meticulously finished with perfection as the pass mark. Each Twisted RIB is then sold with the stamp of quality: The Twisted build plaque. The best made better. Made in Salcombe.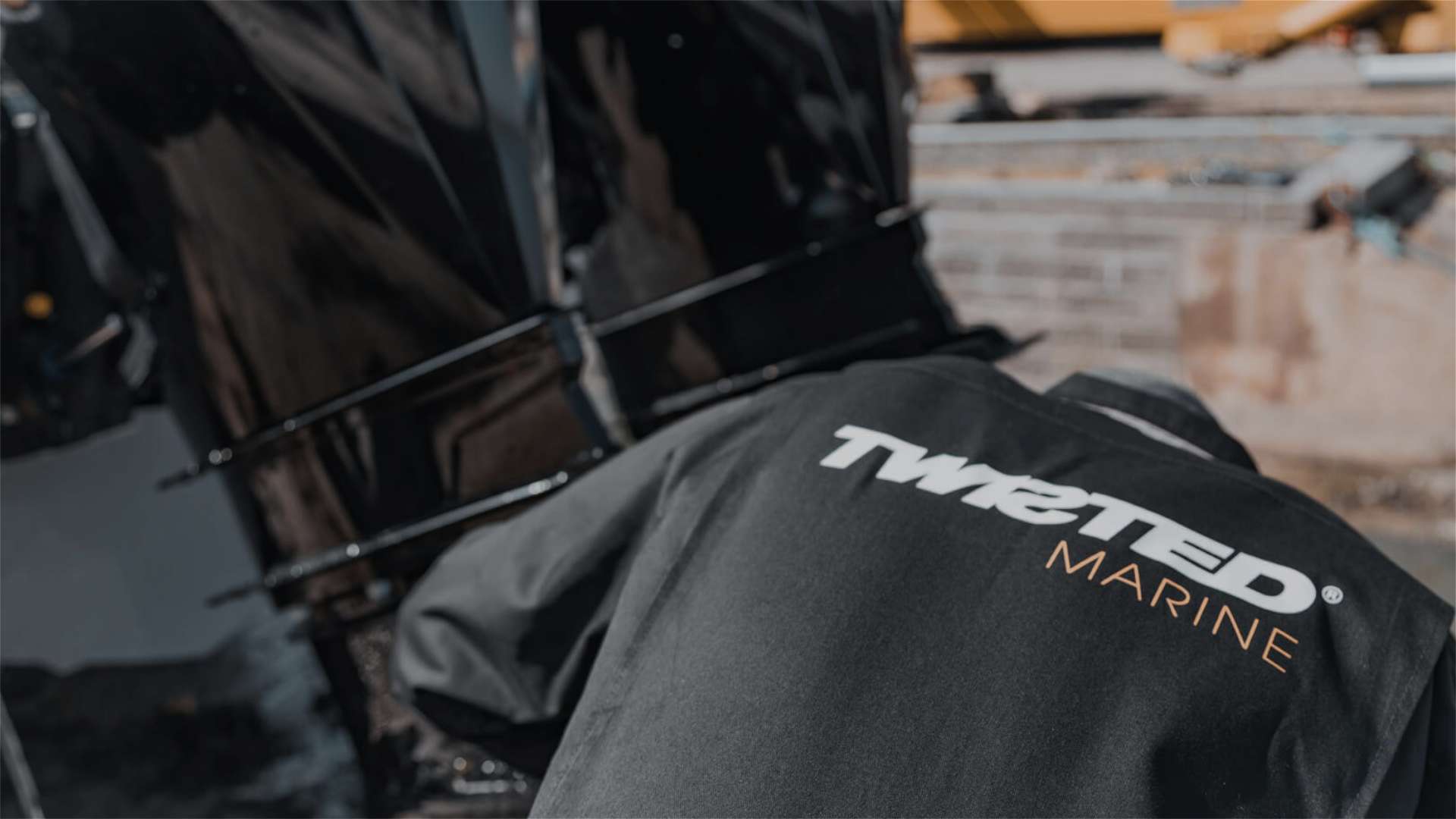 Bespoke Build
Over the past 20 years, Twisted have built a reputation on creating vehicles that are as unique as each of the cars owners, no two Defenders are the same. This ethos carries across to our artisan engineers at Twisted Marine. Alongside our production line of in -house specification craft our skilled designers can work with you to create a completely bespoke build.
Each hull design lends itself to being completely transformed to your individual needs, whether that be boating application, utility use, high performance engines or as simple as custom colours, paint schemes, deck layouts, upholstery and more.
So whether you are looking for the ultimate coastal watersports tool for your family or the yacht tender that everyone in the marina will envy; Twisted Marine's designers will work with you to build your dream vessel.
RIB 7M
T200
Cruise the coast with this agile and extremely capable entry into the Twisted RIB range. The T200R shares the same DNA as it's larger siblings including it's offshore pedigree design Deep Vee hull design.
Due to her size, she is easily towable and can be launched and recovered single handedly with ease. Her 200HP engine provides ease of maintenance with enough power to create a sporty and dynamic drive.
RIB 7.7M
T300
The Twisted T300R, a RIB, reimagined our way. The T300R has the same Deep V Hull and offshore capability as the flagship T450R. Considered the perfect size for many; the T300R has breath-taking performance from the roaring Mercury 300HP V8 outboard engine.
Perfect for adventure and water sports with adrenaline at the helm, you will know you are on a Twisted build from the moment you step onboard. From bow to stern our skilled marine engineers have refined the performance, handling and onboard equipment to create an
uncompromised experience on the water.
The 300HP V8 features a switchable sports exhaust and racing propeller, giving you that sporty feel when behind the wheel, plenty of grip in the turns and a 60mph top speed.
RIB 8.7M
T450
The T450R represents the flagship in the line of high performance craft; labelled the "Defender Of The Seas".
Each craft is hand rigged in the heart of Devon; Salcombe – home to superb waters for setting and rugged coastline.
The boat features twin 225HP Mercury V6 Verado outboards. Their set up is unique however with custom race inspired Twisted machined rigging hardware and offshore performance propellers. The electronics are a bespoke package provided by Simrad Yachting and feature the all new NSX 9" displays with a custom Twisted interface.
Comfort is provided onboard with stunning bespoke Twisted upholstery, with the helm seats featuring inbuilt suspension to lower fatigue for those longer sea passages. A wrap around U shape sofa and Dining area in both forward and after deck areas creates the perfect location to enjoy the water.
The tube design mimics the Twisted Land Rover striping and the design engineers have spent over 400 hours dialling in the vessel and fine tuning the set up and onboard features. Many features and design elements are hidden away in the engineering and development work of the craft. This results in class leading performance and handling – a vessel that's a true joy to drive both fast, for cruising and in rough weather.
The T450R is based on a 8.7 true Deep Vee performance British designed RIB, upon which Twisted breath over every element of design and engineering. This creates a 70+mph vessel whilst also returning great fuel economy at cruising speeds. The drive is dynamic and reassuring with safety and performance equally focused on at the design stage.
Trailer
Twisted Marine build the complete package for each customer. Thus if you want to look as good off the water as on it, the Twisted developed road trailer, available for each model features class leading construction and engineering.
From oil filled bearings, disk brakes, Twisted alloy wheels and electronic winch posts, each trailer is bespoke and tailored to your requirements. Each trailer has one thing in common, class leading with incredible engineering, creating safe towing and a perfect pairing for your new RIB.